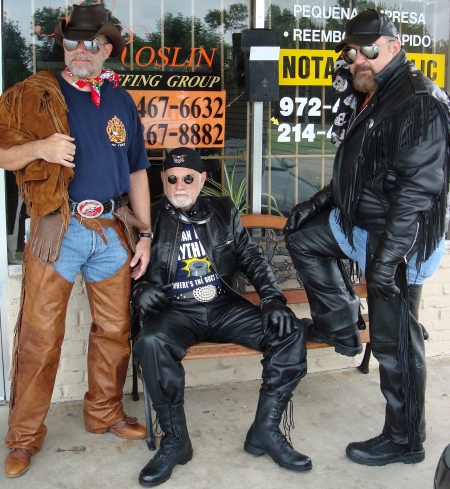 Redneck Biker Dude, Tired Biker and Burly Man in Fringe.
Tan Leather Fringe Chaps, Tan Leather Jacket, Round Leather Cowboy Hat and Redneck Belt Buckle, Biker Dew Rag, Motorcycle Racing Jacket, Leather Pants, Spike Belt Buckle, Studded Belt, Biker Gloves, Leather Ball Cap, Black Leather Fringe Motorcycle Jacket, Black Leather Fringe Chaps, Harley Davidson Belt Buckle, Etc.
Love costumes? See every upcoming costume-friendly event in the Dallas-Fort Worth area all year round at DFW Events Calendar!