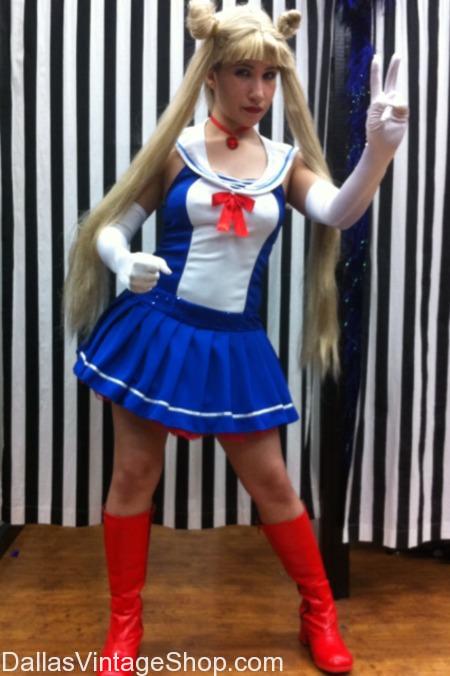 This Sailor Moon Ikkicon Event Costume Suggestion is only one of a billion we have in stock. We are the source for Anime Events in the Metroplex. We have all you need to know about Ikkicon, like Event Times & Dates, Tickets, Costume Contest Info, Maps and Ikkicon Schedule and Detail. We even provide links to the Official Ikkicon Website & Anime Event Costume Suggestions. We have tons of complete Anime & Cosplay Costumes at Dallas Vintage Shop. Costume Events are our business so save us, share us and check our Events Category for Anime Events, Week by Week & Month By Month. At our Costume Shop you will find Anime Event Costumes, Cosplay Event Costumes & More.
Ikkicon
Ikkicon Anime Expo Event Date & Time: Dec 28 at 1 PM – Dec 30 at 4 PM
Ikkicon Anime Expo Event Location:Renaissance Austin Hotel, 9721 Arboretum Boulevard, Austin, Texas 78759
Ikkicon Anime Expo Event Map.
Ikkicon Anime Expo Event Info & Tickets: $55-$60
Ikkicon Anime Expo Event Official Website: 
Pictured Ikkicon Anime Expo Event Costume  Samurai provided by Dallas Vintage Shop
From Ikkicon Anime Expo Event Organizer, IKKiCON:
IKKiCON is a Japanese Animation and Pop-Culture Convention held annually in Austin, Texas. IKKiCON traditionally runs for three days during the beginning and/or end of the calendar year. We pride ourselves in bringing together the most amazing anime and pop-culture fans and guests to enjoy our events, panels, and workshops. Since 2006 we've been working tirelessly to offer the best experience for our attendees, guests, and staff. We are proud to be fan-run, fan-made, and will always put the community first to ensure we have the most successful convention possible.
What's the refund policy?
Refund Policy
We do not offer refunds for any memberships. If you cannot attend the convention after you've pre-registered, transferring your Membership is not allowed. Your purchase is a membership badge; it is up to you to obtain the badge and attend.
NOTE: We do not mail out badges. Simply put, things get lost in the mail; therefore, you must show in person to obtain your membership badge. You will need to go to the registration desk and pick up your badge. Please remember to bring a photo ID. Bringing your confirmation sheet from your pre-registration quickens the badge pick-up process.
Find more Ikkicon Costumes and Ideas Here