Burning Man 2019 Daily Themes
Discover Burning Man 2019 Black Rock Desert Dates: August 25th, 2019 – September 2nd, 2019
Burning Man 2019 Black Rock Desert Location: Black Rock Desert, Pershing County, Nevada, US
Find Burning Man 2019 Black Rock Desert Map
Burning Man 2019 Black Rock Desert Tickets
Visit Burning Man 2019 Black Rock Desert Official Website
This Burning Man Feathered Costume Provided by Dallas Vintage Shop.
Daytime Themes for The Burn
Manic Monday – Your first full day on the playa means lots of exploring, biking, and very little sitting around, so wear something light, easy, simple, and functional.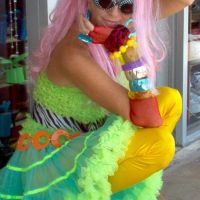 Tutu Tuesday – This one is easy to wear, and only takes moments to create. Just add a tutu to any bikini and race out to playa.
White Wednesday – The good news is playa dust is relatively white, so staying pristine all day is remarkably easy.
BBM Thursday – A time honored tradition is the Billion Bunny March, which happens every Thursday as burners dress up as bunnies, protesting the humans. And the bunnies are often met with resistance by carrots, who want to be acknowledged as friends, and not food.
Sight Seeing Saturday – Tonight the man burns! Why not take the day to see all that the burn and the Universe have to offer.
Sendoff Sunday – Most burners don't stay for the final burn, so your outfit today should be appropriate for the playa and the default world. Stay loose and comfy on your final tour around the playa before you hit the road and head out.
White Wednesday – Meet your friends at Opulent Temple for the annual white party, and feel sexy and warm in a pure white outfit.
Throwback Thursday – Take things back to the 1940's with a military inspired look that will be all the rage at the burn this year.
Sparks Saturday – Tonight the man burns so dust off your best burner threads and make the night hot with a fire inspired look.